Today, I am so excited to present to you all my brand new blog, Grace Filled Journey over at gracefilledjourney.org!

Over the past few months, I've realized that Whispers to the Heart was my building block. It's been such a blessing to blog here for over a year now but feel that a change is much needed for many reasons.

Whispers to the Heart was my first "real" blog. It's where I've grown as a writer, stumbled as a newbie, learned to establish an online presence, and find my voice amidst this busy city called the world wide web. However, something held me back from growing this blog even bigger and that is because I knew I needed to make a change. There is so much more I would like to try and do to grow as a blogger, entrepreneur, and friend; I needed to a new platform to do all of this.

So now, without further ado, I want to bring you to my brand new blog, Grace Filled Journey. There you will find a new name, host, look and even an online store!! Please feel free to browse my brand new store Reyèl, a partner with Haiti's Jewels as well as the new look and feel of my blog. While it is still a work in progress, I am excited to see what the future holds for Grace Filled Journey.

Thank you all so much for your love, support and encouragement this past year and a half! I hope and pray you will come and join me over at Grace Filled Journey so that we can continue to walk together on this beautiful journey of life together.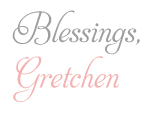 Add a comment »