I'm so excited to tell you all that there are some exciting new changes coming up soon!! While I don't want to reveal all the details quite yet, I will say that Whispers to the Heart will be getting a new home, new name as well as some other added changes along the way!

It's been such a blessing to blog here at Whispers to the Heart but due to severe writers block, a large (blogging) learning curve, and a dash of inspiration I've decided to continue this journey elsewhere. At the moment I'm working hard to get everything up and running, in order and looking good.

Please be on the lookout for more details and updates. I'm stoked for the new changes on the horizon!!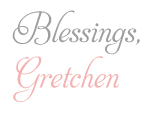 Add a comment »