This is a blogging challenge I just found over at
Heritage of Grace
and thought I'd jump in! Ok, so I'm jumping in about 9-10 months late (the original post was made back in May of 2013) but I figure better late than never right?! Since I love these challenges and I'm currently (as of typing this post) snowed in I decided to give it a go. It's a great way to meet other bloggers and fellowship. If anyone else has a blog feel free to jump in as well. Link back to Heritage of Grace and post the photo above. Ready? Set? Go!
What is your favorite hymn?
If I had to choose just one hymn I guess I'd say my absolute favorite is "In Christ Alone" by Keith and Kristen Getty. It chronicles the life of Jesus through beautiful, poetic lyrics set to an amazing Irish melody. Nearly every time I hear it, I get teary eyed and my heart swells with love for my Savior. I adore listening to many different hymns but this one has to be my number one.
What do you consider to be the most difficult book of the Bible? Why?
Revelation hands down. I usually start off reading this book and understanding it, but as I move along each chapter gets more challenging. The imagery and symbolism tend to go way above what I can comprehend and I often get lost in what time period I'm reading about. There's so much information and prophecy packed into this amazing book of the Bible that I don't think I'll fully understand it this side of eternity.
A character trait you most admire in people?
Self-control. I long to have great self-control and truly admire those who can control their actions, words and responses to life. I hope to cultivate more of this character trait myself.
What do you like most about your family?
Our closeness. Everyone in my family is close with each other. We know the value of having a close knit family and being their for each other. It's something that my parents instilled in me through their actions whilst I was growing up. I also greatly enjoy my family's sense of humor. My Dad has a great sense of humor and is always making me laugh.
What do you wish you could do more of?
Volunteer at my local Pregnancy Care Center. I was able to do this for a while in college but ever since I began to work I haven't been able to make the proper time commitment required. I greatly miss being at this wonderful place each week.
Favorite author and book?
Stepping Heavenward by Elizabeth Prentiss. What a phenomenal story written by such a godly woman! I highly recommend this book to all women, young and old. It's challenging, inspiring and genuine. God spoke greatly to me through the words penned by Mrs. Prentiss. She also has many other books available to read.
Do you prefer active/outdoor activities or creative/indoor activities?
Both! Well since I live in New England the seasons vary greatly. In the summer, spring and fall I like doing seasonal outdoor activities such as apple picking or strawberry picking but during the winter I love to bake, knit, read and watch inspirational movies indoors.
Do you keep a journal/diary?
Oh yes! It's one of the ways I love to write down what God is doing in my life as well as prayer requests or other things on my mind.
What is your favorite healthy food or recipe (ex: blueberries)?
Apples, avocados, bananas, cauliflower, carrots, and two ingredient cookies! (See recipes
here
and
here
.)
Do you think music is neutral or does it have an influence on those who listen?
Music definitely has an influence on those who listen to it! I believe there is a reason that the Bible exhorts us to praise the Lord and make music to Him over and over again. Music is a powerful way to influence others and lift up our hearts. We need to be very careful to what we are listening to as it can direct our thoughts to both good and to evil. Research has even shown ways that music influences our mind.
Which historical person (besides Biblical characters) do you most admire?
Elizabeth Prentiss and Corrie Ten Boom. They are two amazing women who served God and lived to glorify Him!
What do you like best about blogging?
Connecting with others and learning from them! I've met so many amazing people through blogging and have been able to fellowship with those who live miles and miles away. I love learning from others experiences and hearing how God is working in their lives. The Lord has blessed me greatly through my blogging and other bloggers.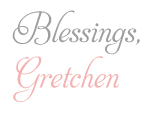 2 Comments »