Women today are bombarded with messages of how to be beautiful. From magazine ads, to Hollywood actresses, to Victoria's Secret models, to television commercials! Even while walking on the sidewalk down a busy street or driving on the highway with a billboard flashing the latest mascara, we're constantly being told how to dress, act and look. It's hard not to get sucked in to the whirlwind of it all! I know I have more than once.
Whether we're comparing ourselves to other women or critiquing our own body image, the world's standard of beauty is practically inescapable unless you live in cave in the mountains.
Confession: I've been really struggling with this issue lately. It's been something that I've tried to cover up too by wearing nice clothes, "braiding" my hair and just plain old obsessing over how I look. I know I'm not the only one who does this either. So a few weeks ago, as I was reading through the Song of Solomon, a verse about beauty in the Amplified translation literally hit me square in the face. It's been in the back of my mind for a while now and as I was fixing my hair yesterday I felt like God was prompting me to write about this very thing. Because like I said before, I know I'm not the only one who struggles with this.
So I'm kicking off this New Year (also my one year anniversary in blogging! Yay!) by starting a series on true biblical beauty. I hope to address the lies we've been fed about beauty, what God sees as true beauty given to us in His Word, and how we can begin to embrace the true biblical beauty. I hope all the ladies (and even men) out there who read this blog will join me for this series.
Happy New Year to you all!
[She said] I am only a little rose or autumn crocus of the plain of Sharon, or a [humble] lily of the valleys [that grows in deep and difficult places]. Song of Solomon 2:1 AMP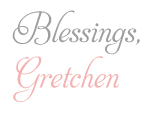 2 Comments »