The hardest part of waiting is waiting. I know that seems redundant but it's not. Whomever has had to wait a while for something knows what I mean. Waiting, and all that it implies, is not an easy task. I find it extremely frustrating and sometimes even painful to wait. I know I'm not alone in this.
The cry of the psalmist seems to echo my own heart at times:
I am weary with my crying; my throat is parched; My eyes fail while I wait for my God.
Psalm 69:3
I rise before dawn and cry for help; I wait for Your words.
Psalm 119:147
Waiting can be a time of great pruning, refining and growth. There's no denying the pain that results from our time of waiting. And yet, I have to admit that the Bible usually paints a totally different picture of what it looks like to wait on the Lord. It leaves me scratching my head at times, wondering what it is I'm doing wrong.
Listen to the blessings and hope within these next verses.
For evildoers will be cut off, But those who wait for the

Lord

, they will inherit the land.
Psalm 37:9


I will give You thanks forever, because You have done it, And I will wait on Your name, for it is good, in the presence of Your godly ones.
Psalm 52:9


Yet those who wait for the

Lord

Will gain new strength; They will mount up with wings like eagles, They will run and not get tired, They will walk and not become weary.
Isaiah 40:31


For from days of old they have not heard or perceived by ear, Nor has the eye seen a God besides You, Who acts in behalf of the one who waits for Him.
Isaiah 64:4
The

Lord

is good to those who wait for Him, To the person who seeks Him.
Lamentations 3:25


But if we hope for what we do not see, with perseverance we wait eagerly for it.
Romans 8:25


And so, having patiently waited, he obtained the promise.
Hebrews 6:15
I've been doing it wrong. My vision has been too short. In the act of waiting, spiritually we all tend to become nearsighted. It's not that hard either. If I know what I want and I know I want it now, then waiting has become an obstacle to obtaining the prize. With this view in mind, waiting ceases to be a blessing; a chance to trust in the Lord and see His goodness in my life.
It's come down to one issue and one issue only, my heart. Am I willing to say to the King of the Universe, the Maker of Heaven and Earth, 'Thy will be done?' Am I willing to bend my knee in humble adoration and let God be God in my life?
Rest assured though God sees the longings, the hurts and the desires of our hearts. I truly believe He longs to fulfill those desires too. In His perfect timing and His perfect way, God will answer all of our prayers. Never lose heart waiting on Him.
Our waiting is really an opportunity to fully trust God and be amazed at what it was He had planned all along! Take heart in the journey of waiting.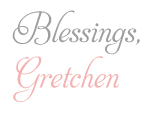 Add a comment »