Pilgrims. I'm fascinated with them! Always have been really. Even as a child, I found these people so interesting. I remember in 3rd grade we did a whole unit in Social Studies based upon the Mayflower and the pilgrims. I loved it! My curious mind was enthralled with learning about them. Who were these people with the buckled shoes and hats, bonnets and aprons? Why was I so attracted to their way of life? So curious and enthralled was I that I even dressed up as as Pilgrim for Halloween that year! (Sort of an oxymoron with the pagan holiday and all but I was only 8 and I'm sure God had a big smile on His face due to my interest.)
As an adult I'm still so eager to learn more and more about the pilgrims and their way of life. In hindsight I now see that the seeds were planted at a very young age. (Pretty cool how God works huh?)
I've come to learn that far from being the strange people with strange clothes, the pilgrims were godly Christians who saw God in absolutely everything they did! They were people who knew what true thankfulness was all about. They were the ones who persevered in their faith despite horrible circumstances and pressures. They were the men and women who had such vision for future generations that you know it had to have been solely given by God alone. They were not perfect but they were genuine God fearing people who paved a path so beautiful that their legacy lives on even today.
I wonder what it would be like if our country today would live with such dedication, love and thankfulness to the Lord. I wonder what the discussions around the Thanksgiving table would be like.
One thing is for sure, I want to be able to live with such fervent love, and devotion for God as the pilgrims did. I want my vision to be as far reaching as theirs was.
I'm still fascinated with the pilgrims and their story. I think it's because ultimately their story is God's story, and they knew that too. They knew that everything they had came from God above. You can see that in their actions, in their thankfulness and in their lives.
May this Thanksgiving be full of thankfulness to the Lord and love for His provision. After all we are all in a very spiritual sense "pilgrims" on this journey together.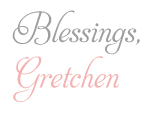 5 Comments »