It was just a moment. A quick moment during dinner when everything felt surreal. I gazed at my dinner in front of me. The haddock I had chosen for dinner was now mid bite. Lights flashing, music playing, people chatting.
My cousin, the third of the six grandchildren on my father's side had gotten married. My cousin, the one whom I played with, made up dances with and had sleepovers with was now married. How and when did this happen? Weren't we just little girls giggling about the latest celebrity cutie on Disney?
I had to snap myself out of the moment by taking another bite of my meal and tuning back in to the conversations happening around me.
Some days when I feel like time is flying by, I long for a do-over. I want to go back and relish those childhood memories with my cousins. Those long held traditions that I took for granted I wish to live over again. What if I'd only been more content back then? What if I'd only stopped and smelled the roses more?
But I can't turn back time and living in the past is a sad and dangerous way to live. I can't go back and relive those times, but I can relish in the moments given to me today. I can be grateful for what I have now and learn to be content.
Is it any wonder that God has been teaching me thankfulness? Is it any wonder that I found myself ordering Ann Voskamp's book "One Thousand Gifts?" No it's not a coincidence. God is helping me to live fully, today! He's showing me the power of gratefulness and living in the moment. It's not an easy lesson, but it certainly is what I need.
I'm learning how powerful gratefulness can be. It takes what we have now and helps us to relish in the moments we're given. Gratefulness turns an ordinary life into an extraordinary one.
Seeing my cousin get married was amazing. She looked so happy! And while I still am praying that the remainder of the three grandchildren will also get married, I'm also learning that the abundant, filled life promised to us through Christ doesn't happen only when marriage does; the abundant, fulfilled life happens now. We shouldn't let it pass us by.
I don't want to come to the end of my years and look back with longing on today wondering why I didn't stop and smell the roses, relish the moments and live in the present. I want to look back and realize that I made the right choice by choosing to live each and every day given to me. I have a choice to make today!
Thankfulness is a way for all of us to realize the abundance that is right before our very eyes, in this very moment, living for today.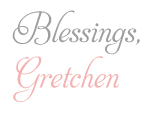 Add a comment »