Today's Prompt: Five things that are most important to you in a future mate.


1. He must be a believer! I would not consider even dating a man if he did not have a personal relationship with God and knew Jesus Christ as his Lord and Savior. This is an absolute non-negotiable for me. Along with this he must be a man of God's Word and sound in the faith. I'm definitely not asking for perfection as I know he will fall far from it, but my number one priority in a husband is that he will be a believer.
2. It's important to me that my future husband also be a humble man with a servant's heart. Someone who is not afraid to give grace to others when they wrong him or do something wrong in general.
3. It's also important that he be a man of stability and self control. A strong, moral guide who is able to help out those in need and be a shoulder to lean on. Life happens. Things don't go the way we want them to and storms sometimes pass through. It's in these moments and seasons that having a strong, stable leader, who exercises self control, will benefit the entire family. On the flip side though I too want to a woman of stability and self control for him so he can count on me through thick and thin.
4. Another thing that is important to me is that he be respectful to women. He must be kind, loving and honorable to the women closest to himself as well as to strangers. It says a lot about a man if he treats his mother and sisters with kindness and thankfulness. After all if he treats his mother poorly then 9 times out of 10 he'll eventually treat his wife poorly.
5. Lastly, it's important to me that my husband know how to laugh! Who wants to be married to someone who can't laugh? I enjoy having a good laugh. Growing up my friends used to ask me why I laughed so much. My answer would always be "laughing is good for the soul!" How true that is! My own father knows how to laugh too. He has a fabulous sense of humor and is always making me laugh. I would really hope that my future husband knows how to laugh well.
Overall it's important to me to find a mature, Christian man with a great sense of character. Will he be perfect? Of course not! I don't expect him to be either. But I do know that choosing a husband is not a light matter and I don't want to be unwise in the choice of who it is I will be marrying. Thankfully I know God will someday help us both grow and mature to be more like Christ each and everyday.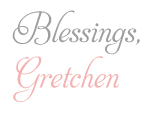 2 Comments »