Today's Prompt: Where you are in Your Life vs. Where you thought you would be at this point.



At 25 years old I honestly didn't expect to be where I'm at today. That's not to say I'm not happy with where I'm at right now, but things look a bit different than what I had hoped for or planned myself.
Right now I'm a recent college grad starting out in the workplace. I get to go to work at an elementary school each day and help kids in the classroom. Being a teacher's assistant was not I was had originally thought of doing, in fact that is the very last thing I had planned on, but nevertheless that's where I am today. And I'm loving every minute of it! There's no doubt in my mind that it's a God thing.
If you asked me 4 or 5 years ago where I thought I would be at 25 years old I would have probably said married with children, or at least engaged to be married. My plan was to meet Mr. Right in college, graduate college, get married and then start a family. Preferably all within a span of 4-5 years. Sounds great right? Everything all tidy, planned out ahead of time, maybe even tied with a blue or pink ribbon on top? Yeah, I thought so too. I even remember driving home from a ministry dinner my senior year in college imagining myself engaged to someone within about a year and half's time. By my own calculations I knew I would be about 25 years old. Let's just say that when that well laid plan of mine didn't come to pass, my heart was broken and God had some serious heart cleansing He needed to do in me.
So here I am at 25 still waiting on the Lord. In all my planning, I never took into consideration what God had planned. While my perfectly laid plans came tumbling down this past year God's plan has started to take root.
I'm not saying that His plans don't include marriage and motherhood but right now I'm still learning to let God be God and let me be, well not. Where I am right now vs. where I thought I would be may not look exactly the same. It's been hard letting go of my "perfect plans" that I thought would happen all by age 25. Some days it's been painful and lonely too. But then there are those other days, when God whispers to my heart those two little words that mean so much to me. Two words that seems to still my questions and concerns.
Just Trust.
Trusting His plans over my plans will always be way better than any of my own "perfectly laid plans" any day of the week! It's not always easy, but I know it's what is best.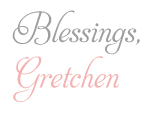 Add a comment »