Today's Prompt: Describe how you met the last person you texted and talk about your friendship/relationship

The very last person I texted (at the time of my writing this post) was my sweet college friend Chrissy! Talk about a sweet, kind, amazing young woman! She and I met through my old high school youth group leader (who is also my pastor's wife) a few years back.

I was a senior in college and she was a junior. Neither of us even knew the other attended the same college until my pastor's wife emailed me and said she had a girl she wanted me to meet who was just starting to attend our church. Immediately I sent her an email. I heard back from her almost instantly. We set up a time to meet at the school's cafe and have lunch together. I remember being nervous but excited to meet her! She sounded so sweet through our few emails with each other. I even remember what I wore to our first lunch!

That day we clicked. Our conversation could've gone on forever. I could instantly tell that she was a genuine, honest Christian woman who would become my good friend.

After our first meeting a beautiful friendship began to bloom. We continued to get together. We'd meet for lunch, attend church together, go shopping, make dinner together, and even did a Bible study for a few weeks! Chrissy became more like a sister to me. Since she lived farther away from home and couldn't drive back to her parents house whenever she wanted, she spent one Easter with my family as well. It was SO much fun!

Chrissy and I continued to get together even after I graduated. She was a rock for me that year after too. Everything around me was changing so drastically. I began a new job, moved to another town, lost two family members and two pets and went through a multitude of other changes. Chrissy was there for me to lean on her. She'd send me encouraging texts when I was feeling down and give me amazing advice at just the right time. I'll never forget what she said to me after I was feeling so sad about moving out of my childhood home.

"Gretchen," she said, "remember you'll always have these memories of your old house in your heart. But now you can make new memories in your new home too!"

Our lunches together after church were monumental. She and I could chat for hours about the past, present and future. We'd pour our hearts out to each other and confess our sins to one another. She is such a blessing to me and I will never forget those times we had with one another.

Chrissy graduated this past May and has since moved back home. We keep in touch through Facebook, text and phone calls. I miss our weekly gatherings but know that we're each in the place we need to be right now. I'm just so blessed to have met her those few years ago and look forward to visiting with her again soon. She continues to be a good friend of mine even though we live much farther away from each other.

Chrissy is proof that God sends us sisters and brothers to strengthen, encourage and uplift us not only in our everyday lives but also in our walks with Him. I miss seeing sweet Chrissy each week but am happy for her now that she also is in her new chapter of life after college.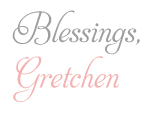 Add a comment »