Blogging challenge time! Boy was I excited when a friend posted a link to a blogging challenge for single women. Lately I feel like my own creativity and writing has hit sort of a snag. With things being pretty busy at work all day I usually come home, workout, relax a bit and then cook dinner. I've been thinking of ways to try and spice up the blog a bit. The single woman's blog challenge seems like the perfect way to jump start my creativity!

Mandy Hale over at The Single Woman has come up with some really though provoking and interesting prompts. Feel free to check them out here. Mandy is doing a 30 day challenge but I will be choosing 10 of the prompts she posted. I tend to like to do things in smaller, bite sized chunks, it helps me to keep the goals I set for myself.

So without further ado here goes my first day of the Single Woman's Blogging Challenge.

Today's Prompt: Describe a moment or a day when being single was really awesome.

Truthfully, there isn't just one specific moment or day when being single was awesome. No one day stands out above another is this regard. However there have been several moments over time when I've realized that being single was actually not too bad!

When my walk with the Lord went from mediocre to serious I had these moments more often than not. It was wonderful for me to just sit and bask in God's Word for hours without having to be responsible for anyone else. I didn't have a husband to serve nor were there children running around my feet demanding all my time and attention. It was just me and the Lord. I'd curl up on my bed, open up my Bible and soak in the goodness of God. These were times of great growth and revelation. In fact I even remember loving it so much that I didn't want to even think about meeting someone and dating them.

Moments alone with God were foundational for me. When I say I'd spend hours alone with Him, I'm not exaggerating. It was in these hours that real transformation occurred (Romans 12:2) I still love these moments alone with God and rejoice in them. Being single certainly does have it's advantages when it comes to taking time away with the Him.

For more than a year I also was able to take the time to serve each week at a Pregnancy Care Center near my hometown. I really don't know if I would have been able to do this if I had been occupied with others things that family and a relationship usually brings. While I served there I likewise continued to grow and was able to meet and fellowship with godly older women. They became such mentors to me and actually taught me a lot about womanhood and motherhood in general.

Now that I've grown some more and no longer have the time to spend hours in the Word or serve at the Pregnancy Center there have been other "aha" moments where I'm grateful for this season of singleness. Coming home after work, thoroughly exhausted from the day I'm always glad to have the time to unwind without children being under my feet or needing to whip up dinner for a husband. Don't get me wrong, I would love to serve both a husband and children, and want to be able to do it joyfully, but knowing that when I come home after a particularly stressful day, I can relax and kick up my feet is always a plus!

Of course with every season there are advantages and disadvantages. I guess I never really thought about the awesome advantages that the season of singleness brings until now. So even though I never had one specific day that sticks out in my mind there have been numerous moments and opportunities where the single life is a real blessing!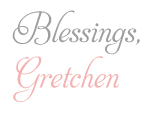 Add a comment »