Dear Mom,

Thank you. From the bottom of my heart thank you. The work that you do is nothing short of miraculous. Day in and day out you love, sacrifice, give and sacrifice some more. In fact the calling of motherhood is a selfless, sacrificial one. I didn't always know this, but now that I'm older and see how hard you work I can't help but marvel at the love and sacrifice you give. It is truly a gift.

There were days when I know I tired you out; days when I brought you to the edge of breaking. I wasn't always easy Mom, yet you stuck with me through thick and thin. I realize now just what you were aiming for Mom. Your endurance, perseverance and discipline has shaped me to be the woman I am today. I am eternally grateful.

All those seeds you planted in my heart have come to bloom in God's perfect time. I know the planting, weeding, watering and more planting must have been tedious some of the time. It may seem like I didn't listen Mom, but trust me I heard you. Your words didn't fall on deaf ears. Sure I was completely resistant some of the time and even disregarded your advice out of foolishness and ignorance, nevertheless the seed was planted. Your watering, fertilizing and yes even weeding was not wasted. I can't thank you enough for this.

I don't think you'll ever fully realize the influence you've had on me Mom, at least not on this side of eternity. Frankly, I'm not even sure I'll ever completely comprehend how much you influence me... but you do. The way you talk, the way you dress, the tilt of your head, your work ethic, all have an influence on me Mom. Please don't let that scare you, but rather let it inspire you; inspire you to know that even during the cooking, cleaning, disciplining, teaching and loving you influence me. Everything you do matters because you matter Mom. You matter to me. More importantly you matter to God.

Thank you Mom for being faithful to His calling on your life. Motherhood is not easy but it is a glorious calling from the Lord. I am grateful you responded to that call Mom. More than you will ever know.

It is my hope and prayer that God will make me a Mom just like you someday and that I too can respond to the call just like you. He's given me a wonderful role model and a woman I've come to not only call mother but friend.

Love,
Your Daughter

To my mother and all the precious mothers out there. May you be inspired as you live out this miraculous calling.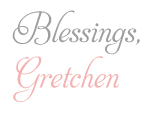 2 Comments »