For weeks now I've been meaning to write this post. It's been on the back burner of my brain to write a book review for one of my new favorite books Three Decades of Fertility, a Visionary Womanhood book. Unfortunately I've either been a) too busy or b) too lazy. An interesting paradox but nevertheless true. However it is with great pleasure that I bring you today my honest and heartfelt review of this precious book.

I've been reading the Visionary Womanhood blog for over two years now. When I first found the blog run by Natalie Klejwa I simply devoured each and every article and browsed through the archives of previous posts. Here was a woman, a God fearing, people loving, kindhearted genuine woman who took womanhood seriously. She didn't claim to have it all but the advice she gave always, always pointed back to Jesus Christ.

I recently came to realize that Natalie and all the godly women who write over at Visionary Womanhood have become mentors to me. For that I am truly grateful.


This past July, when the book Three Decades of Fertility was released I went on Amazon and ordered a copy. Now to be honest I was a bit skeptical about buying the book at first. What could a book about child-rearing do for me? I'm a 20 something single gal who only wishes she were in the same circumstance these women were in. (A.k.a married with children.) How could a book like that help me? I decided to buy it though because Natalie had never steered me wrong before in all of her book recommendations and because I had read a sample of the book on my Kindle and loved it.
I read the book within 48 hours after receiving it in the mail. It was just that good. Not only did I benefit greatly from the testimonies of the ten women who wrote about their journey in childbearing but I felt God speak to my heart in such spectacular ways.
Each woman's testimony was different. There were different life circumstances, different upbringings and different views on child-rearing from the get-go. Their stories are not the same but their love for the Lord as well as their trust in His faithfulness sure is.
These are stories of women who surrendered all to their Creator; who have suffered pain, experienced true joy and everything in between. Women who were not afraid to embrace life and raise children for God. Not only do I deeply respect these women but I thank them from the bottom of my heart. Their stories have given me hope. Hope not only for a husband and children, but even more for hope in my God. And hope is something that I've needed in this season of singleness.
I highly recommend that all women, single, married, widowed or divorced pick up a copy of this book and read it. There is something to learn in each page and I truly believe that God will use it to speak to your heart, expand your vision and help you to embrace life to the fullest.
Thank you to Natalie and all Three Decade of Fertility and Visionary Womanhood contributors. I am deeply grateful for you all.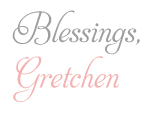 Add a comment »