Busy! That's how I've felt lately. With the new school year now almost in full swing and a new schedule I'm beginning to get used to, I've been unable to write my regular quota of posts each week.

Nevertheless I am grateful to God for these amazing opportunities placed in front of me. You see, I have the privilege of working with lots of precious children each day. They are such a blessing to work with and it is a great joy to be able to speak encouragement into their lives. Of course there is a whole lot of reading, writing and arithmetic going on but even amidst all of the school work there are smiles, laughter, encouraging words and of course love. Lots of quiet, patient and persevering love.

I guess I never realized just how much love a teacher has for her students. Now that I'm on the other side though I see just how much perseverance, patience and vision a teacher must have in order to really do their job well. Day in and day out of ABC's, phonics and algorithms can get tedious. It's not easy keeping your eyes on the prize when your patience wears thin and you can't even hear yourself think above some particularly rowdy students. It's a labor of love for sure but one that is more than worth it.

When I'm able to see beyond the mundane tasks of the day and really get to the heart of what it is I'm doing, I can't help but sing with joy. Investing in a life for the glory of God is a humbling task. It is my hearts prayer to do it always in love and with thankfulness for each child that crosses my path. So even though I may be busy my heart is bursting with joy.

Thank you to all the teachers out there! Whether you are a public school teacher, private school teacher, homeschooling mama, pastor, or mentor. All teachers are a gift from God and investors in eternity.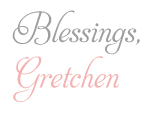 2 Comments »