(Image courtesy of [Apolonia] / FreeDigitalPhotos.net)
Eating healthy has become a priority for me over the last couple of years. Now that I'm past my college aged years and can no longer eat an ice cream sundae without feeling the effects the next day I slowly became more health conscious. Choosing the right amount of fruits, vegetables, whole grains and healthy fats is a must now that I'm seeking to be a better steward of the body that God has given me. Of course eating healthy doesn't mean I don't allow myself to have an ice cream sundae now and again or eat those delectable chocolate chip cookies straight from the oven, but moderation is key.
One thing I've learned about eating healthy is that it's not a one time only thing; eating healthy is a lifestyle. Continually eating the right things, eating sweets in moderation and having a few staple foods in my kitchen all help me to not only eat healthier but live healthier.
Here are five of my go-to, must have, kitchen food and drink staples that help me to maintain a healthy lifestyle.
1. Olive and Coconut Oil:
These two healthy fats are a must have in my kitchen. I cook and bake with both EVOO and Coconut oil almost daily. In fact I've even heard that you should be consuming two tablespoons of either of these oils daily!
Click here
to read about the amazing benefits of including olive oil in your diet.
2. Lemons:
I admit, I've jumped on the lemon bandwagon! After reading about the numerous benefits of lemon water I now drink lemon water daily. Many people recommend drinking it before breakfast on an empty stomach; however, I usually don't have time in the morning to wait about a half hour for breakfast after drinking lemon water. What's worked great for me though is drinking it before lunch time when I'm getting hungry again. Lemons are also great to use in salad dressings or for creating a zesty lemon chicken entree!
3.
Green Tea:
High in antioxidants green tea is my go to drink every morning. Do a quick google search on green tea benefits and read about all the amazing things green tea can do for you!
4. Apples:
An apple a day keeps the doctor away, so the saying goes. Little did I know how true that saying really is. I eat one organic apple about 5 times a week. Not only are they delicious but they really do help keep your body healthy!
Click here
to read more about why apples are a must have in any kitchen.
5. Raw Honey:
I absolutely LOVE honey! Every morning I put a tablespoon of honey in green tea and then eat a tablespoon of honey right out of the jar. It's soooo yummy! I could eat more of it to be honest but like I said before everything needs to be eaten in moderation. To tell you the truth though I never realized just how good raw honey was for you until this past year. The
Deep Roots At Home
blog, which I absolutely love, actually clued me into a bunch of the benefits. Check out Jacqueline's post on the
7 Bee-utiful Benefits of Raw Honey
over at Deep Roots at Home. While you're there peruse her site for even more posts about raw honey and other healthy kitchen staples such as herbal remedies, raw foods and super foods!
The list above is by no means exhaustive. I still eat lots of fruits, veggies and whole grains but I realized that by slowly implementing a few key foods into your diet, the more likely you are to continue to a pattern of healthy living and not fall off the healthy lifestyle bandwagon. Feel free to create your own kitchen staples list; God has given us such amazing foods to eat that nourish our bodies and minds.
Praise Him for His wonderful gifts!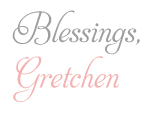 2 Comments »