I didn't expect to work in a school after college. In fact it was probably the very last thing I expected, which is definitely strange when I think about it because I adore working with children. Truth be told though I didn't want to work in a school because I had a hard time in school when I was a child.
Academically I did fine but emotionally it was tough. As a fearful, anxious little girl I rarely felt safe being away from my mother for long periods of time. I mostly was fine on play dates, those were fun, school however was long and sometimes even tedious. Thankfully though there were quite a few teachers who came alongside me and made things a whole lot better. I still remember them fondly after all these years and am grateful for the time they took to nurture my heart.

A year ago I found myself working at an elementary school after college. It wasn't my plan to work there but somehow upon learning about an available position a peace washed over me about applying. After a series of events I eventually landed a job within the school and am back there this year. Wednesday was the first day back and already I feel that peace again; like I'm supposed to be there. Seeing each child everyday and being able to help them grow is absolutely amazing. I love what I do! Now I have the privilege to nurture a child's heart and come alongside them in love. It's an honor and a blessing!

This wasn't what I planned on doing, nor would it have been what I would have chosen for myself. Nevertheless I am glad that God had planned this and chose me to do this work right now. I don't know if His plan for me is to this job for the rest of my life or even for another two years, I do know that His plans will stand and it's my job to trust in His plans for me because they are good.

I write this to you today because I want to encourage you all to trust God fully; He has a plan for you and it is oh so good. His plans for you are numerous and it's not something you can ever fully comprehend or understand, especially on your own. But God is faithful and will guide you each step of the way into His perfect will for your life. Trust in His plans.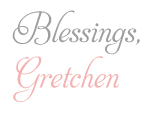 Add a comment »