I love how God seems to always send a message just when we need it most. Sometimes it's a subtle message something that I could easily miss if I'm not paying attention, other times its a very clear and loud message that is extremely hard to miss, and still sometimes God uses other people to speak His timely word to our hearts.

Just a few days ago a sweet blogger wrote a very timely message for me and I have no doubt it was God who orchestrated it all. I wanted to pass on this post on to you all along with the amazing video that went with it.

Click here to read "The Timing of a Beautiful Creator" over at Written Reality. You can view the video below or at the link above. But please be sure to read the blog post before watching the video.


Remember God has a plan.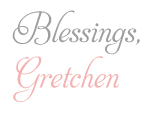 4 Comments »