Oh the power of worship! Yesterday as I sang Christ Alone Cornerstone by Hillsong, a line jumped out at me:


"My Anchor Holds Within the Veil"
Christ our Cornerstone, not only is our Anchor but has also made us worthy to go within the veil of God's Presence. He even tore veil apart in His death so that wherever we are we may indeed be "inside" the veil of God's presence. His blood shed covers us and leads us into a living, lasting loving relationship with our Heavenly Father.
The line in this song is a humbling and powerful reminder of God's love for us and His continuous presence in our lives.
We have this hope as an anchor for the soul, firm and secure. It enters the inner sanctuary behind the curtain,
where our forerunner, Jesus, has entered on our behalf. He has become a high priest forever, in the order of Melchizedek.
The book of Hebrews is a great starting point to learn more about the ways in which the images of the Old Testament point to Jesus Christ.
Click here for a free printable I made for your personal use. May you be blessed as you continue to walk with the Lord in the light of His presence.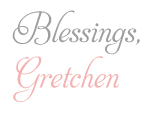 4 Comments »