End of the Week Links

Hello everyone! I hope you've had a good week thus far. Anyone have special plans for this weekend? Now that summer is drawing nearer I find myself not being half as motivated to get work done at school with the kiddos. They too are having a tough time concentrating at the remaining work left these 2 last weeks, thankfully though they are pushing along and getting everything done! If you have any tips on how to encourage and motivate children please share your advice in the comments below.

And now here are the end of the week recommendations. Most of these posts are geared towards singles but anyone can be encouraged by them.

What Every 20-Something Needs to Know
@ HeadHeartHand

Re-Thinking Waiting On The Lord For Husbands For Our Daughters
@ The Focused Homemaker

A Promise Fulfilled
@ A Woman Inspired

A Must Read!

Also a great resource for single women is a book I just finished reading by Candice Watters called, Get Married: What Women Can Do to Help It Happen
.


Candice is a wise woman who knows the many pitfalls and underlying assumptions most single women believe today. (Including me!) After reading her book though I felt renewed, inspired and full of hope. This is a book all single women must read. Candice not only addresses some of the passive truths that are presented today when it comes to finding a husband but she corrects the wrong ideas that seem to have been planted in so many hearts. The Lord has used this book greatly in my life and I would encourage all ladies to read this book if you have not yet.
Click here
to preview and purchase the book. I highly recommend it.
I hope everyone has a wonderful weekend!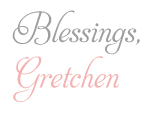 Add a comment »