The In Between
Now that we've addressed both the good and not so good aspects of singleness in this three part series, I want to move onto the aspects of singleness that fall more into the category of what I like to think of as "in between." Before I do though I want to make clear that what I call "in between" is not meant to be taken as a a period of time when our lives are on hold. Truth be told I fell for this lie (and still do sometimes) without even fully realizing it. The lie goes something like 'my life won't fully start until I get married.' To be completely honest, I get it. I really do! The single years, especially the young single years, sometimes feel like the in between years. You know what I'm talking about. You're not a kid and yet you're not married with children either. These years often times feel like a period where nothing happens and you are just waiting. But nothing could be further from the truth. So while the title "The In Between" may sometimes unwittingly connotate a period of years where waiting for real life to begin takes place, this is not what I mean. Now that I've cleared that up a bit let's delve into the last post of this series together!
Some days I find it easier than others to be a young single Christian woman, while other days it is just plain old painful. Every once in a while I tend to swing from one extreme to another but the single life is really balance. The desire to be married is God given. When the Lord placed Adam in the Garden of Eden, He said that it was not good for Adam to be alone and therefore made a helpmeet suitable for Him (Genesis 2:18); being made in His image we are relational creatures. The very relationship of a husband and wife are actually a reflection of the relationship between the church and Jesus Christ! I don't believe it is a coincidence that God chose an earthly marriage to be the reflection of Christ's relationship with His church. (Ephesians 5:31-33) Since our desire therefore is God given we ought to thank God for this desire to get married and rejoice that we are made in His image instead of throwing a pity party that we are not yet married. Marriage is not the ultimate gift remember, so going from the extreme of exalting marriage above Christ and choosing to wallow in our pain is not good. What if there was someplace in the middle though that would help us to patiently wait while we are single? What would this look like in our day to day living?
I've heard a lot of well sincere and well meaning Christians say that we need to be content in our singleness before we get married. This is actually partially true. I say partially true because what these genuine Christians don't realize they are doing is setting up singles for disappointment. The truth is most singles will not be fully content. So when they do feel a great amount of discontent, failure and even shame for not being content can get a foothold in their life. This easily creates an emotional roller coaster of one extreme to the other. Personally I don't think saying that we must be content before marriage is very helpful at all. In fact, I can't ever remember one instance in the Bible where it says that Christians should be content before they get married. On the contrary! The Bible says, get married! (Ok so maybe not
get married
in those exact words but you get my point. The Bible says that marriage is a good thing and we should not be ashamed for wanting it.) While we should be content to a degree that we praise God for giving us such awesome desires to want to be married, wait for His perfect timing, and not wallow in sorrow that we are not yet married, it doesn't mean we have to want to stay single forever. But the contentment advice normally given to Christian singles today may actually being doing more harm than good.
What if we took the time to live in a way that is completely honest before the Lord with the desires of our heart? What if we thanked Him for the desires He has placed within us and praise Him for giving us the hope to someday get married? Perhaps we'd find ourselves living each day in a balance of hope and joy. Hope looks to the future while joy lives in the present. Of course we may have some days that the pain is still there but Jesus will never leave us nor forsake us. His strength, love and comfort will carry us through no matter what season of life we may be in.
Thank you all for joining me in this three part series. I want to leave you with a video by Priscilla Waller (sister-in-law of Josh Duggar from 19 Kids and Counting!) that has really helped me and influenced this post. While I personally can't recommend the book she mentions since I have not read it, I do hope you find the advice given in the clip to be a help for you all.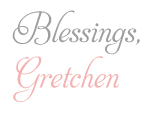 3 Comments »