Can you believe that today is already the last day of May? The older I get the more time seems to just fly by. It's become more and more important to me to cherish every day and each moment. While some days are easier than others, the moments within the day are no less important. Each day is a gift from the Lord.

This is the day the LORD has made. We will rejoice and be glad in it.
Psalm 118:24

And now, here are today's recommendations.

Odd Man Out @ Boundless.org

Why Have Babies? @ Boundless.org

The Sovereignty of God and Evangelism @ Ligonier Ministries

I hope you have a wonderful weekend cherishing each moment given by our loving Father.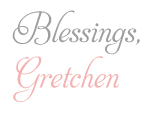 Add a comment »