Hello all! I hope you all have had a wonderful week, growing in the Lord and seeking Him. He truly is a merciful, loving and active God.

This past week I came across Psalm 131 and verse 2 really spoke to my heart. The Amplified Bible, which I love to read, says,

Surely I have calmed and quieted my soul; like a weaned child with his mother, like a weaned child is my soul within me [ceased from fretting]. Psalm 131:2

Oh what a picture! Can you just imagine the image of a baby leaning their head against their mother's chest? Absolutely precious. What's amazing to me though is that we likewise can lean ourselves against God Almighty. Like a weaned child we too are invited to lean against our Heavenly Father and rest.



A precious picture indeed.
And now, here are this Friday's three recommendations.
Without Love, I Am Nothing: 1 Corinthians 13:2 @ Visionary Womanhood
An Invitation to Join our SOBer Club @ I Take Joy
And a video!
Live Forever a documentary from Nick Vujicic's Europe Tour
May you have a blessed weekend. I pray you will experience the contentment, love and peace in resting upon the Lord.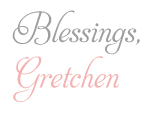 Add a comment »