(Source: Image Base)
Hello all! I hope you are all doing well and have had a lovely week so far. I'm excited to say that today is the day of my very first guest post! I will be writing a post over at Stay At Home Daughter today that will touch upon the topic of small beginnings. But before I invite you to join me over at the Stay At Home Daughter blog (which I highly recommend by the way), here are this weeks recommendations on the web.
Time is in Your Hands
, a Godly Time Management Devotions @ Essential Things Devotions (click through to her homepage to view all of the devotions. I'm still working my way through but love them all so far!)
A Biblical Role For Women Seldom Recognized
@ eHomebody.com
At the foot of the fall
@ I Am Not Perfect Yet
If you have a chance I highly recommend these posts. They are all lovely blogs to visit!
I now invite you to join me today over at the Stay At Home Daughter blog where the title of the post I'm writing is
One Step at a Time
. Ashley is such a kind and sweet young woman. I've been blessed to get to know her more. Her blog Stay At Home Daughter is a real gem! I'm so grateful for the opportunity to do a guest post there today!
Have a wonderful weekend!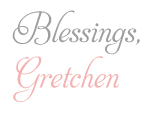 Add a comment »