3 Great Posts


Friday's Recommendations are back this week! I always appreciate when other blogs post edifying, encouraging and educational articles/posts. It's a great way to fellowship, learn and support one another as we seek to live wholeheartedly for the Lord.
Here are three articles I've recently read and enjoyed. I hope that you too will be edified, encouraged and educated as you read them.
My Biggest Health Related Regret at Age 46
@ Visionary Womanhood
Favored
@ Thoroughly Alive
Teaching Children to Seek God
@
Artistic31Mama
I hope you have a wonderful weekend!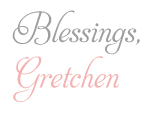 Add a comment »