Losing Our Life
Confession, I have a hard time sometimes walking by the Spirit. Why? Well to be honest, I never really knew what walking by the Spirit really was until recently. I also realized, much to my chagrin, that there is a whole lot of "self" going on in my day to day choices and overall living.
I tend to take the easy route, make choices that will bring me down the path of least resistance and be likely to have an adult tantrum (i.e. complain, mutter, get angry at others, gossip etc) if I'm taken way out of my comfort zone. Yeah, this eye opening and very humbling revelation showed me that I've got a lot of "self" still alive and well. It makes Spirit filled living near impossible.
The Bible paints a different picture for us though. Jesus Himself, Who walked a Spirit filled life addressed this very issue.
Then Jesus said to his disciples,
"Whoever wants to be my disciple must deny themselves and take up their cross and follow me.
For whoever wants to save their life
will lose it, but whoever loses their life for me will find it.
Matthew 16:24-25
Or as the Apostle Paul puts it in the letter to the Galatians:
I have been crucified with Christ and I no longer live, but Christ lives in me. The life I now live in the body, I live by faith in the Son of God, who loved me and gave himself for me.
Galatians 2:20
I tend to hesitate to let the self in me be crucified. What will happen if I lose myself completely? Will I be miserable? Will I never be able to say "no" again?
Finding Our Life
Jesus didn't say that though. He didn't say that we'd be miserable or feel burdened by losing the self. Quite the contrary! Jesus said that by losing the self within, we'd actually find real life! It doesn't mean we can't say "no" to people anymore. Nor does it mean that God doesn't want us to take care of ourselves. Crucifying the self means letting go of the fleshly habits that once held us captive and made us miserable, and allowing Jesus Christ to live His life through us. It means living life to the fullest and displaying true Christian love.
Crucifying the self leads to walking a Spirit filled life and bearing the fruit of the Spirit within and without. When we walk by the Spirit we are able to have the right response and allow Christ to shine through us.
Therefore, as God's chosen people, holy and dearly loved, clothe yourselves with compassion, kindness, humility, gentleness and patience.

Bear with each other and forgive one another if any of you has a grievance against someone. Forgive as the Lord forgave you. And over all these virtues put on love, which binds them all together in perfect unity. Colossians 3:12-14

The fruit of the Spirit brings love, joy, peace, patience, kindness, goodness, faithfulness, gentleness and self-control. (Galatians 5:22) Walking by the Spirit helps us to love others, be patient, kind, humble, gentle and joyful.

The Joy of Spirit-filled Living

Living by the Spirit brings great joy! Is it always easy? No. When the self life tends to rear its head, living by the Spirit is hard. In fact, without Christ working in us and living in us it is impossible. We cannot do it on our own. It's just too hard. We have to be purposeful and prayerful to live by the Spirit instead of by the flesh. But more importantly we need to remember that Christ in us is more powerful than the flesh. Living by the Spirit will bring true life, freedom and pure joy. Losing the self actually means gaining the abundant life in Christ.

I realized only recently (and am still learning) just how much our "self" is tied into our fleshly habits. I'm still learning and won't reach perfection this side of eternity; however, I'm grateful that God is able to do abundantly above all that I could ever ask or imagine (Ephesians 3:20) and that Christ now lives His life through me. To God be all the glory!

Thank you all so much for joining me for this 3 part series of Flesh vs. Spirit Living. I pray that these posts have been encouraging and edifying for you all.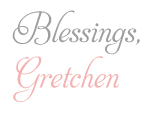 Add a comment »