All Things New
The depths of a heart
Only God can rightly see,
With its longings, scars, desires—
What a mystery to me!
The pains of the past
And the questions of the present
Drown out that gentle whisper,
So sweet, so calm, so pleasant.
'Child, are you listening?'
I hear the sweet Lord say.
'Let go of all your cares and worries,
And trust Me with today.'
'Behold I go before you,
To lead, to teach, to guide;
There is no need to worry,
I'm right here by your side.'
'Is there anything too hard for Me?
Is there anything I cannot do?
I AM the Lord your God,
Who makes all things new.'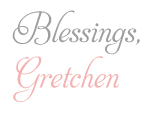 4 Comments »