Deception in the Garden
Eve was deceived. The serpent, who is crafty, cunning and subtle tricked Eve into believing that God was holding back. Eve was blatantly deceived by his lies.
"Could it really be?" the serpent planted those seeds of doubt.
"Did God really say?" he prompted.
Eve struggled knowing that she was not supposed to eat of the fruit from the tree of knowledge but the crafty, cunning, and deceptive serpent did what he does best: lie. Giving in to temptation Eve at of the forbidden fruit. She believed the lie and her actions brought pain. Pain, fear and sorrow entered because she not only believed the lie, but acted upon it. Thus the Fall took place.
Combating the Lies
The years I was in bondage to fear, I believed one lie too many.
'You will have to live with this fear for the rest of your life.'
'People won't like you if they see the real you.'
'You will always live in constant fear, so deal with it.'
Lies upon lies were sown... It's the same tactic from the same old liar.
Jesus said that the devil is the father of all lies and that there is no truth in him. (John 8:44) He also said that the devil is a thief who came to steal, kill and destroy. The devil is nothing but a liar. The lies he speaks bring pain and deception.
One of my favorite books that deals with this very topic is called 'Lies Young Women Believe and The Truth That Sets Them Free,' written by Nancy Leigh Demoss and Dannah Gresh. Here is a passage from chapter 14 which is titled 'How To Find Freedom From The Lies Replace lies with the Truth.
Dannah Gresh admits that while writing the book she,
"was assaulted with thoughts and feelings she had not experienced in years." ...

"I ran for my Bible. I went straight home and cradled it in my arms as I got on the floor before the God of the universe and asked for His Truth to overcome these lies. I dug into my Bible for specific verses to pray aloud and write in my prayer journal. I took it a step further by going to a special worship service at my church that evening so my mind and heart could be 'washed' with the Truth. By the time I went to bed, I no longer felt the heaviness that had come upon me so quickly. I'd been set free." (Lies Young Women Believe and The Truth That Sets Them Free, pgs 179-180)
Truth Sown in the Heart
We combat the lies with God's Truth. It was the Truth that saved me from years upon years of lies. God does not want any of us to live in fear! By reading God's Word, the lies were uprooted and His Truth was sown in my heart.
"I don't have to live with fear!"
For God has not given us a spirit of fear, but of power and of love and of a sound mind.
2 Timothy 1:7
"I've been set free!"
Therefore if the Son makes you free, you shall be free indeed.
John 8:36
Remember that Promise given to Eve in the Garden about her Offspring crushing the devil's head? Yeah, that Promise is Jesus Christ and He came to give us freedom AND victory!
More Truth was sown after reading these verses:
I was more than a conqueror in Christ (Romans 8:37)
He who did not spare His own Son, but delivered Him up for us all, how shall He not with Him also freely give us all things?
Romans 8:32
Jesus has overcome the world (John 16:33), therefore we are more than conquerors in Christ. We will still encounter trouble, brokenness and temptations but Jesus, our Savior, has given us His righteousness, peace and victory. The evil one has no hold on us when we are in Christ Jesus.
Jesus is Freedom and Truth
Jesus truly has given both you and me freedom, peace and victory. He is the Truth and exposes the lies for what they really are... outright lies! Next time you feel the lies come, run to Jesus, seek Him in the Bible and replace the lies with Truth.
I end this post today with a beautiful verse from the book of Isaiah.
All your children shall be taught by the

Lord

,
And great shall be the peace of your children.
Isaiah 54:13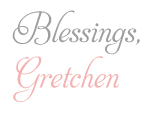 Add a comment »