I just love how poems give us the ability to express our hearts! Recently I began reading more poetry by Emily Dickinson and have found her vivid imagination to make for an inspiring read. One little gem in particular really struck a chord with me. I wanted to share this poem with you all. In fact, I'm hoping to post two to three poems a month so you too can get inspired!
So grab a cup of coffee, tea (insert your favorite drink here) and pull up a seat for Thursday's Poem by Emily Dickinson.
Fringed Gentian

"God made a little gentian;
It tried to be a rose
And failed, and all the summer laughed.
But just before the snows
There came a purple creature
That ravished all the hill;
And summer hid her forehead,
And mockery was still.
The frosts were her condition;
The Tyrian would not come
Until the North evoked it.
'Creator! shall I bloom?'"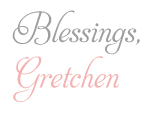 Add a comment »