Questions and Answers

Just the other day I picked up a little book at the used bookstore titled "Let Your Life Speak: Listening for the Voice of Vocation" written by Parker J. Palmer. I have not read this book yet but felt compelled to at least see if I could find any hidden gems of wisdom where God's Voice may speak.

You see, I'm at a point in my life where I'm still seeking God's specific purpose for my life. I know that I'm not the only one in this position either. There are lots of people, young and old, who are seeking to figure out the answers to the questions of their future. Questions such as:

Where will I work?

Whom will I marry?

What does God want me to do with my time?

Has the Lord called me to a life of singleness?

Etc.

Your questions may not be the same as mine. Some questions may be the same while others may be different. I don't know. Only you and God know the questions on your heart. It's tempting to look for the answers in other people's opinions, aptitude tests, and even books like the one I mentioned above. The answers however are only found in God. The One Who created you, knit you together in your mother's womb and holds the entire universe in the palm of His hand, He is the One with the answers to each and every question.

Sure it's ok to read books for advice and ask others opinions, but these things are merely tools and not the ultimate end. Trust me, I've tried to use books (other than God's Word) to find answers. I'm tempted to do that often in fact. But only God can give us the answers we need.

In The Wilderness


About a year ago, a friend and I were reading some of the Gospel of Mark together. We spent a few weeks at the very beginning where Jesus fasted and was tempted in the wilderness. After pondering the situation and thinking it over together my friend remarked, "you know the 20's can be kind of like a wilderness." I laughed. Oh how right she was! At that time I was in my last year of college and had not a clue as to what I would be doing next. It was going to take a lot of time, prayer, trust in God and meditation in His Word to figure it out. There were times I got frustrated, ran ahead of God and would question what He was doing.
Why are you taking so slow?
I would ask God. (Oh how grateful I am for His patience and forgiveness!)
He never told me "this is your life calling, now go and do it!" I don't doubt He still speaks this way to some people; however, if you're like me then God only shows you what to do one step at a time.
One. Step. At. A. Time.
This is trust. This is faith. This is letting go of control and letting God take the reigns.
Is it easy? No. Can it be frustrating? Only if we let it. Are we lost? No. As long as you take that small step forward in the direction God wants you to go then you are not lost. It's hard though, taking one small step at a time. I want to get it all done and done now! But, is that really the best way to go about things? Honestly, no it's not.
Do Not Despise Small Beginnings
The Lord is teaching me Zechariah 4:10a
Do not despise these small beginnings, for the

Lord

rejoices to see the work begin,
Walking in faith and trusting that God has a plan for your life and the answers to all of your questions is part of the life of the Christian.
A big part.
What may seem like a wilderness phase could actually be a real blessing. We all go through wilderness phases regardless of our age. It's in this stage that our relationship with God has to the potential to grow even more intimate than we could have ever imagined!
Perhaps God is teaching you a lesson that will be a big help once you reach the promised land. Don't despise these small steps nor reject the lessons along the way. God knows. He has a plan for you and He will show you the path to take.
In the years to come, I truly believe we will look back on these years and see God's fingerprints on our lives much more clearly. He is faithful. Faithful in the wilderness and faithful in the promised land.
"Great is Thy faithfulness," O God my Father,
There is no shadow of turning with Thee;
Thou changest not, Thy compassions, they fail not
As Thou hast been Thou forever wilt be."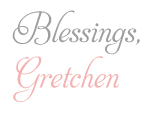 4 Comments »