A couple of years ago when I really began to tackle all of the fears I had been dealing with, with God, I read some amazing books that spoke greatly to my heart. In the book Calm My Anxious Heart: A Woman's Guide to Finding Contentment by Linda Dillow, a quote by F.B. Meyer really struck a chord with me. I wanted to share it with you all today.


"This is the blessed life--not anxious to see far in front, nor eager to choose the path, but quietly following behind the Shepard, one step at a time. The Shepard was always out in front of the sheep. He was down in front. Any attack upon them had to take Him into account. Now God is down in front. He is in the tomorrows. It is tomorrow that fills men with dread, God is there already. All the tomorrows of our life have to pass Him before they can get to us."
-F. B. Meyer
You can purchase this book at Amazon.com as well as other major bookstores.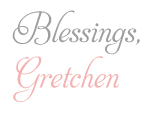 Add a comment »