Welcome!

Welcome to Whispers to the Heart! I'm so glad you decided to stop by and take a peek at this tiny, but growing corner amidst the World Wide Web. It brings me great joy to finally launch this blog that has been an idea near and dear to my own heart. However, I cannot take any credit for this blog. The credit goes all to my wonderful Creator, God!
About Whispers to the Heart
So what exactly is Whispers to the Heart and how did this site come to be? Well before I tell you a little more about this blog, I have to come clean about a few things. First off, I've been an avid blog reader for a couple of years now and have really wanted to create one of my own. Ideas would swirl around in my heart as to what I would blog about, the niche I would have and how I would go about creating one. Being kind of an impulsive decision maker, I've probably made about 4 or 5 other blogs in the past but nothing really came of them. It was more of a "make it on a whim" decision without planning or praying about it kind of thing. Because of this it became overwhelming and more of a chore rather than a joy. Finally I realized, after trying things the hard way, that I needed to pause, pray and plan according to what I felt God leading me to do. I needed to put my own ideas aside and listen to the One has the best plan/idea (Jeremiah 29:11).
Whispers to the Heart, was born out of my quiet time with the Lord. After deciding to put aside my own ideas, Whispers to the Heart came to mind. It never ceases to amaze me how God whispers to our hearts through Scripture and prayer. It was then that something clicked and I knew that I could potentially start a new blog.
To the Heart
The Bible speaks volumes about the hearts of men. It's not your normal lovey-dovey, follow your hearts desires that we hear about all the time in current society. There are some similarities, but as I read God's Word I realized that when the Bible talks about our hearts it goes much, much deeper than what we normally would imagine. The heart is really the center of our being and this is where we can hear God whisper to us. I'm not talking about an audible whisper but rather a deep, peaceful type of impression upon our spirits. His Word, the Bible is such a beautiful and valuable way in which He speaks to our hearts and this blog was born out of a hope that each post will allow God to whisper to your hearts. It's not out of my own words or power that this can be achieved but rather through His Word and His power.
I'd love to begin this blog with a "Heart series," which will be a series of posts on what the Bible teaches about our hearts. I'm no expert on this, so please don't look to me for all the answers. Most everything you read hear will be taken out of Scripture or be my own thoughts on that particular Scripture(s). I hope that after you read each post you too will turn to God and allow Him to whisper to your own hearts through Bible reading and prayer. You will never regret taking time each day to converse with our wonderful, beautiful and amazing Creator!
Thank you again for stopping by. Please feel free to learn more about this blog and a little about me in the My Heart to Yours section.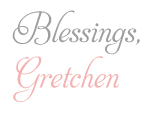 Add a comment »