A Heart Transformed



We're almost through with our Heart Series Devotions. I'm amazed at just how much God's Word talks about our hearts too! After delving into this topic more, I realize just how much I still can learn.
Before I dive into the Scriptures I want to take the time to review what we've learned already.
1. Our hearts are extremely important to God. We are told to love God with all of our hearts numerous times throughout the Bible.
2. The heart is the center of our being. It was designed by God and made for God.
3. The Hebrew word for heart,
lêb, is defined as the thoughts, feelings, will, desire intellect and center.
4. The heart can be led astray though if not carefully guarded from other lusts, temptations and deception.
For more Scriptures on the truths presented in the review I encourage you to read or re-read the past heart series devotions posts.
You and I know now that the heart can be fickle. As hard as I try sometimes I still am led astray. We all can be led astray easily without God's guidance. Thankfully though by constantly renewing our minds with God's truth we also can renew our hearts. Likewise we can find contentment, joy and peace by having a renewed heart. However in order to have a heart that is receptive to God and His ways, and one that will be able to have communion with the Lord, we need a completely new heart. A heart transformation. This is not something we can do on our own either. It has to be done by Someone else.
Heart Scriptures
Therefore, since we have been justified through faith, we
have peace with God through our Lord Jesus Christ,
through whom we have gained access by faith into this grace in which we now stand. And we
boast in the hope of the glory of God.
Not only so, but we
also glory in our sufferings, because we know that suffering produces perseverance;
perseverance, character; and character, hope.
And hope does not put us to shame, because God's love has been poured out into our hearts through the Holy Spirit, who has been given to us. Romans 5:1-5
And I will give you a new heart, and I will put a new spirit in you. I will take out your stony, stubborn heart and give you a tender, responsive heart. Ezekiel 36:26 (NLT)
Because you are his sons, God sent the Spirit of his Son into our hearts, the Spirit who calls out,
"Abba
,
Father."
So you are no longer a slave, but God's child; and since you are his child, God has made you also an heir. Galatians 4:6-7
Questions to Ponder
What is one of the characteristics of a heart that has not been transformed?
What is one of the characteristics of a heart that has been transformed?
Since we are justified by faith in Christ, Who is it that ultimately gives us a new heart?
Philippians 4:13
I'm grateful that this heart transformation helps me to be more receptive to the Lord's voice and will help when I do feel led astray. Even with a transformed heart we need to renew our minds in God's Word and be diligent to make sure that we are following God with our whole heart. But in the end, it's not anything that we've done that gives us victory. It's what Christ has done for us and continues to do in us that brings contentment, joy, peace and victory.
I can do all things through Him (Christ) Who strengthens me. Philippians 4:13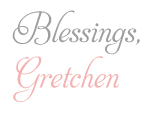 Add a comment »