Heart Series Conclusion


It feels like just yesterday I began posting various Scriptures that talk about the heart. This series has gone on for 4 weeks now though and it's time for the final post on the heart series devotions.
I hope these devotions have helped you to understand more, and grow in the knowledge of God's ways.
In conclusion with this series I will post some of the things Jesus Himself said on the heart. I've included Scriptures this time as well as a prayer to receive Christ at the end of this post. I pray that the Lord will
enlighten the eyes of your heart
(Ephesians 1:18) as you read the Scriptures below. He is faithful to teach and show what you need to see.
Scriptures
Blessed are the pure in heart,
for they will see God. Matthew 5:8
For where your treasure is, there your heart will be also. Matthew 6:21
Take my yoke upon you and learn from me, for I am gentle and humble in heart, and you will find rest for your souls. Matthew 11:29
"Truly I tell you, if anyone says to this mountain, 'Go, throw yourself into the sea,' and does not doubt in their heart but believes that what they say will happen, it will be done for them. Mark 11:23
But the seed on good soil stands for those with a noble and good heart, who hear the word, retain it, and by persevering produce a crop. Luke 8:15
"Do not let your hearts be troubled. You believe in God; believe also in me. John 14:1
God Sees Our Hearts
Please remember though, that our heart is another way of addressing our deep, inner-man.
God sees this part of us better than anyone else can.
He fashioned our hearts and created our hearts to be in fellowship with Him. This is only possible through His Son Jesus Christ.
If you've never asked Jesus to cleanse your heart and dwell in there forever, you can take that step today. All you need is to ask Jesus to forgive you of your sins, cleanse your heart, dwell inside of you and believe His sacrifice on the Cross.
Prayer
Lord God,
I am so sorry for living my life apart from You. I've not followed You with my whole heart, nor have I loved You the way that You created me too. I am deeply sorry and I humbly repent.
Thank You Lord God, for sending Your Son Jesus Christ to live, die and rise again for me. Because of His sacrifice I can be made new. I turn to You and believe in what Jesus has done and that He is Your Son, my Lord and Savior.
Please Jesus, come live and dwell in me forever. Guide me, show me the path I am to take and please bestow upon me a new heart that is sensitive to You, the Light of Life and Truth.
I pray this and I ask this in Jesus' Name,
Amen
That if you confess with your mouth, "Jesus is Lord," and believe in your heart that God raised him from the dead, you will be saved. Romans 10:9
If you prayed that prayer, and truly meant it, you are now made new in Christ. I encourage you to tell someone about your decision and to find a Bible believing church where you can continue to learn and grow in Christ! That prayer you prayed is really just the beginning of a brand new life!
Please feel free to email me to let me know if you prayed that prayer. I would love to chat with you and pray for you!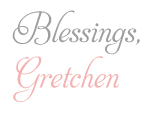 Add a comment »