End of the week links

Here were some of my favorite articles that I read online these past few weeks (in no particular order):

Second Steps Toward Eating Real Foods: Switching Your Food Sources @ KeeperoftheHome

I've Been Ruined! @ WomenLivingWell

What if you don't know what your God-sized dream is? @ Holley Gerth's blog

and

Back To Eden an amazing, eye opening, God-centered film! I'm so grateful that we can watch this movie online for free.

What were some of your favorites you've read/viewed recently?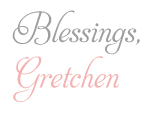 Add a comment »